Nipple overlay: make any of my skins WickedWhims-compatible
Make any of my skins WickedWhims-compatible
Texture covers an area larger than the nipple itself, because otherwise it would only add new nipples, not replace them. The shading for this is from my Serena skin, but it is very soft and as non-intrusive as possible, so hopefully it won't affect the main shape or cleavage.
The nipple texture is from the Serena skin too, but if you use WickedWhims then it will most likely go over it, so mine won't be visible (but this is preferable since WW's own texture looks the best with their custom breast mesh)
Download one or as many files you want ~ it's cloned in several categories for convenience, in case some skin detail-slots are already taken
by Miiko
Nipple detail EVEv7 by SM Sims
NATURAL VERSION:
BIMBO VERSION:
DEV FILES FOR CLOTHING CREATORS:
OPTIONAL SKIN DETAILS ADDONS:
Nipple Skin Detail – Masculine Gender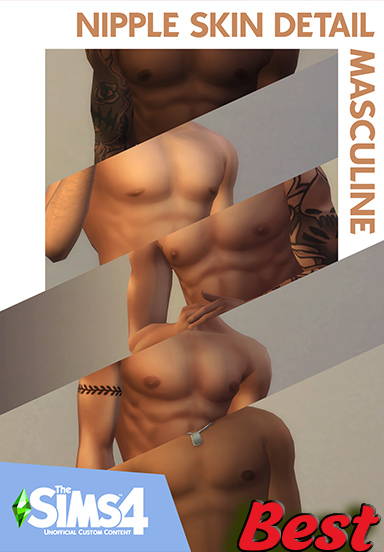 A Skin Detail for your sims to have more varied nipples! (This was very hard to type without laughing)
The set comes in two different category types:
Face Skin Detail: Click on your sim's face and navigate to the skin details menu;
Body Scar: Click on your sim's body and navigate to the body scars menu (might require the werevolves pack until EA adds basegame body scars, that's why i included a for-sure basegame version)
There are 14 different variations available
TS4 – Skin Detail – Big and Natural Nipples BY Noir
For females. 
For teen to elder. 
Swatch colors: 50.
In: Skin detail, tattoos, and gloves.
With Thumbnail Files.
Compatible with HQ Mod.     
Compatible with BB and TIT-E.